I like maps a lot. I have been fascinated by them for as long as I can remember. When I see a map of pretty much anything (especially if it shows mountains and trails), I usually stop to take a look. In planning for our Colorado Trail hike, I have looked at a ton of maps, data books, and digital apps. It seems like exhausting work, but I truly enjoy it. When I see interpretative signs along the trail, I get excited because they usually provide in-depth background information that a basic map does not usually showcase. Sometimes, I just want one simple question answered—why was that thing I am looking at on a map (or in-person) given its name?
It may seem like a basic query, but often there is a significant history behind a name. Other times, with names like Snow Mesa or Lake City, it's pretty obvious why someone chose that moniker. Along the Colorado Trail however, many places and names keep popping up that mean a lot to the indigenous and local people of the area.
During our last stretch of the trail from Salida to Lake City, I noted one name in particular—San Luis. This name was very familiar to me even before the Colorado Trail, since Sangre de Cristo National Heritage Area includes 3,000 miles of the San Luis Valley. This region includes a wealth of Hispanic and Ute Indian influences, as well as "the oldest town in Colorado"—the town of San Luis in Costilla County. From what I could find online, the Hispanic settlers of San Luis had come from the Taos Valley, and dedicated their new church during the Feast of Saint Louis on June 21, 1851. They would then name their town after their new patron saint. I dug even further, and found out that Saint Louis was a French monarch from the 1200s who is the only king of France to be canonized.
As you peel back the layers of history, the complexity of our natural and cultural heritage becomes evident. After hiking this portion of the Colorado Trail, which included 14,000 ft+ San Luis peak and San Luis pass, I have a new appreciation for those little points on the map which in part recognize a sainted French King. (See featured pic of San Luis peak at sunset.)
Similarly, when discussing the history of the Cache la Poudre River, I have seen other people experience the same enlightenment after learning that the river's name means cache of powder in French. The tale goes that French fur trappers got stuck in a snowstorm and had to store their gun powder along the river banks so that they could make it out alive. Afterwards, the name seems to have stuck, even though there are alternate accounts from other European settlers and indigenous populations.
For my trip along the Colorado Trail, I will continuously look for these influencers who shaped those maps and defined those points of interest. Meanwhile, Colorado's National Heritage Areas will help interpret and tell these important stories.
Day 18: After spending a couple extra days in Salida and skipping some drier sections of the trail, we were lucky to receive a ride from a "trail angel" name John, who drove us through the town of Saguache along CO Highway 114. The Spanish word "Saguache" (spelled/pronounced "Sawatch" in English) seems to have several different translations, but it stems from the Ute word meaning "water at the blue earth". Soon after we started hiking on this section of the trail, rain began falling from the sky and filling the dry creek beds, thereby cementing the appropriateness of the area's name in hindsight. (See pic below of the clouds that would soon soak us.) It continued to rain throughout the night, which provided an ominous beginning to this section of the trail.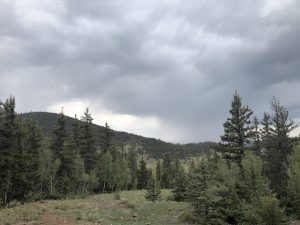 Day 19: Usually, mornings on the Colorado Trail include blue skies and sun. Not this day though (see ominous pic below). We woke to cloudy skies, and were treated to more rain, thunder, and hail later that day. As we entered the La Garita Wilderness, we pushed on to the next trailhead for an accidental 20 mile day while looking for shelter of any kind to dry out ourselves and our equipment. Interestingly enough, "La Garita" means the "the lookout" in Spanish and was given to this area because of San Luis Peak, the wilderness area's only 14er which can be found looking down on you throughout most of your time in this region. Of course, we could only look out and see more clouds and rain on this day.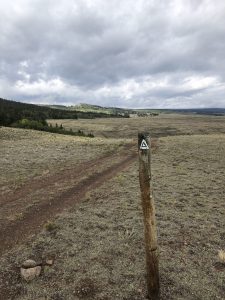 Day 20: We awoke with cautious optimism as we finally glimpsed blue skies and the hopes of drying out after two days of wetness. Despite a few early morning clouds, the sky cleared and presented amazing views of the Cochetopa Creek basin, which originates at San Luis peak. (See picture below from the top of the basin.) The Cochetopa hills and mountain pass are integral geographic features in this region, with "Cochetopa" being a Ute Indian word for "pass of the buffalo". We didn't see any buffalo of course as we crested the saddle below San Luis peak, but we were greeted to amazing views at 12,600 ft as we made camp that afternoon. The trials and tribulations of the previous days undoubtedly made the superb hiking and beautiful vistas all that much sweeter.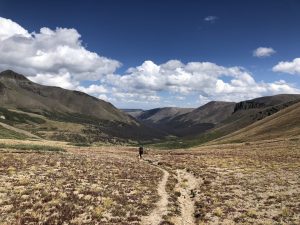 Day 21: It was an early morning as we took a 3 mile detour from the Colorado Trail to hike up San Luis peak. 14ers are always a challenge, but being the only people on the mountain during sunrise was a special experience. Even though it was a shorter day for us in terms of mileage, staying above 11,000 ft while going up, down, up, down, up, and then down again over San Luis Pass was exhausting. Water sources were also troubling, until finally we met up with Middle Mineral Creek (see pic below). As we tasted our filtered water that night, we realized the creek was also correctly named—it was some of the hardest water yet.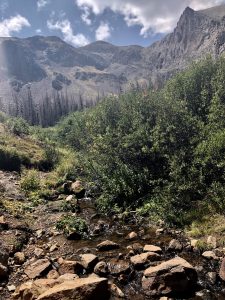 Day 22: With the hopes of catching the shuttle to Lake City, we got up early again with only 10 miles separating us from real food and a comfy bed. We said goodbye to the La Garita Wilderness, and hello to several exposed miles along Snow Mesa. (See pic below.) The trail presented countless views of the aptly named "Continental Divide" and the many mountains ahead. On the west side, I could picture all the water running to the Gunnison River, then the Colorado River, then the Pacific Ocean. Then on the east side of the divide, I could envision everything streaming towards the Rio Grande, through the San Luis Valley, and to the Atlantic Ocean.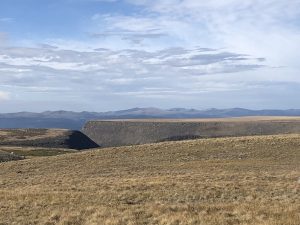 After a final sharp descent to the trailhead, we were reunited with several other hikers who we had met in passing along this section. We really felt the remoteness of the Colorado Trail through the La Garita Wilderness, but here we all were waiting for a 17 mile ride into town. Thankfully, as the rains rolled in at the trailhead, we were all able to get a hitch into town where we were greeted by a friend with amazing food and great lodging at the Matterhorn Motel.
As we head towards our last 125 miles of the trail, I will continue to look for those historical and cultural connections to the places and people highlighted on all my maps. Whether it's Hispanic settlers and Ute Indians in the San Luis Valley, or French fur trappers and Northern Arapaho in the Poudre River Valley, Colorado's National Heritage Areas will continue to tell the stories of the people and places that make up this state's constantly evolving natural landscapes.
Sources:
https://www.fws.gov/mountain-prairie/refuges/documents/San%20Luis%20Valley%20Complex%20-%20Cultural%20History.pdf
http://www.townofsaguache.org/saguache-past—future.htm
https://www.summitpost.org/la-garita-wilderness/732791
http://sdcnha.org/about-us/
For more information on Ute Indian history, the book "Troubled Trails: The Meeker Affair and the Expulsion of the Utes from Colorado" by Jonas Grant and Robert Siblernagel was recommended to me. For a video series on the Northern Arapaho Tribe in the Poudre River Valley, check out poudreheritage.org/videos.
About the author: Jordan Williams is the Assistant Program Manager for the Poudre Heritage Alliance, and he will be hiking 400+ miles of the Colorado Trail from Denver to Durango from August to early September alongside his wife Kelsey and their dog, Aska. During their trip, the threesome will be making stops in South Park and Sangre de Cristo National Heritage Areas and blogging about their experiences. Additionally, they will be posting about their adventures on Instagram @thehikingheeler and @poudreheritage. Don't miss your chance to learn more about Colorado's Heritage Journey!