Hiking the Colorado Trail is the hardest thing I have ever done. The combination of physical and mental challenges is a unique cocktail of adventure beyond my normal trail races and camping experiences. And it's not just the extreme uphills and bone-crushing downhills that tax your body and mind. The many hours spent wandering through the forests and valleys with little in view except more of the same brings to mind many questions: Why am I doing this? Will things ever get easier? What happens if I just quit?
I feel like the first settlers of the Colorado territory probably felt the same way when they faced numerous challenges of their own. After the first Colorado "Gold Rush" in 1858, many people started streaming into the state hoping to find their fortune. Soon, others discovered that Colorado's Rocky Mountains were truly a mineral belt of untapped resources. The Colorado Trail, and several of the towns along the way such as Leadville and Silverton, tell this story of how the mining industry shaped the state's culture and history,
As I reached the Chalk Creek Canyon, just past the Mount Princeton Hot Springs, this history came alive. (See featured picture of Mount Princeton from the opposite side of the canyon.) In the 1880s, St. Elmo became a boom town as the silver and gold mining took off. The railroad brought industry to the area, and soon other minerals were discovered as well. Mount Antero, another 14er looming in front us of at the trailhead, has produced an abundance of aquamarine, topaz, quartz, and crystals over the years. Having walked by many houses on the way to the trailhead at Chalk Creek near Mount Antero, I could picture how this area would have been bustling with mining and railroad activity in the not too distant past.
Of course, water is an integral component to the mining process. So even before the prior appropriation doctrine had been officially established in Colorado's state constitution of 1876, miners were diverting water for beneficial use in their operations shortly after the 1858 gold rush. Miner's codes had a significant impact on Colorado's water law, which would become the standard for many western states as those "first in time" had a "first in right" ability to divert and use their allocation. The Cache la Poudre River National Heritage Area commemorates the importance of the Colorado doctrine as it relates to water law in the west. (For a fuller account of Colorado's mining history and water law, David Schorr's book "The Colorado Doctrine" was recommended to me.)
While the obstacles facing those miners and water managers are much different than the mental and physical challenges we face on a daily basis while hiking the Colorado Trail, I would like to think at some point those early settlers must have been thinking the same thing as me—that this is the hardest thing I have ever done.
Day 13 on the trail: We said bye to Twin Lakes after a restful couple days, but we were faced with an immediate conundrum—how do we get back on the trail? We could walk the extra miles around the lake (see picture below), but the easiest way would be to hitch a ride to the east side of the dam and jump on there. Hiking "purists" may scoff at skipping even a couple miles of trail, but one of my favorite things about thru-hiking is the motto "hike your own hike". This motto really means that your adventure is what you want it to be. Fortunately, we got lucky with some "trail magic" and got a ride with another hiker. It made for a more enjoyable, less stressful start to our third section of the trail.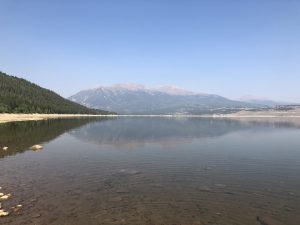 Day 14: After camping alone in the Collegiate Peaks Wilderness, which was our first solo camping experience for quite some time, I awoke to a mystery—where did one of my socks go? I often hang my socks from a tree or my pack at night to air dry, but this time I was missing one. My pack was even ensconced in my rain cover as usual, but there were a couple odd things going on. One of my rain cover tightening straps was broken, my pack's side strap was nearly severed, and there were several holes in one of my socks that did make it through the night. There could only be one explanation—squirrel attack! A lot of people ask about wildlife on the trail, but up until this point it had been fairly uneventful, meaning that we hadn't seen any moose, bears, or mountain lions (thankfully, although we finally did run into some moose—see pic below). However, now I became just as worried about squirrels as anything else. Next time Aska, our dog, goes after a squirrel, I may not be as quick to recall her.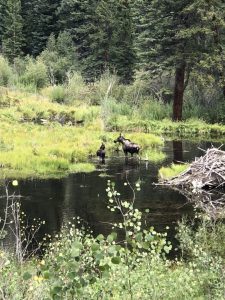 Day 14 on the trail also saw some of our biggest hiking challenges so far, with 1400 ft up, then 1200 ft down, then 1400 ft up, before finishing our 18 mile day with another 1200 ft up in the last 1.5 miles to another lonely camping site above 10,000ft. It was then, in the Collegiate Peaks Wilderness with no one else around except Kelsey, Aska, and I, that I thought—this has to be one of the hardest things I have ever done. (But the views are pretty—see our picture below of the Collegiate Peaks.)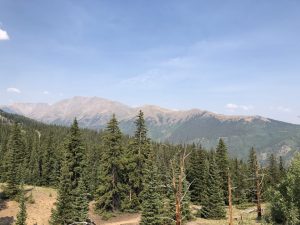 Day 15: With the potential for an easier day ahead after a blistering 2400 ft decline in 2.5 miles out of the Collegiate Peaks Wilderness from Mount Yale, things were looking up. Of course, with easier trails and popular trailheads come more people and sometimes more problems. Between the kids, dogs, and horses on the trail at this point, new challenges presented themselves around every corner—including a broken trekking pole. Just when you think you have the trail figured out, it can throw you a curve ball.
Day 16: We woke early this day with the prospect of brunch at the Mount Princeton Hot Springs resort in mind. Even the several miles of road walking to the resort was worth it so that we could enjoy real coffee, French toast, and bacon. With extra food in our bellies, we pushed past the amazingly beautiful chalk cliffs (see the picture below) to find ourselves all alone again on the trail. That night at camp though, we finally ran into several other colorful thru-hikers with seasoned trail personas such as "Starbuck", "Mowgli", and "Crunchy". Despite our trouble finding a good water source, and some threatening clouds in the distance, the extra camaraderie really helped motivate us for our push to Salida the next day.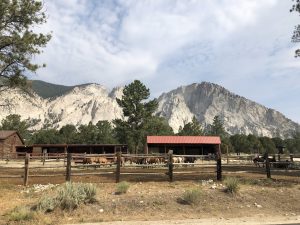 Day 17: After a 20 mile day previously, 8 miles to Highway 50 and hopefully a ride to Salida wouldn't be too taxing. We passed several other 14ers in the distance, including Mount Shivano, and crossed one of the Arkansas rivers' many forks. I was excited to be back in a "real" river basin yet again. Thankfully, a trail angel named Chuck just happened to be waiting at the trailhead, and immediately offered a ride back to Salida where we would be staying at the hiker-friendly Simple Lodge for a couple extra days to rest up before getting back on the trail. (See pic below of Salida's riverfront park.)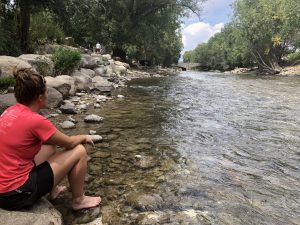 Between the breweries, restaurants, and riverfront access, Salida has been a great diversion from the trail. Of course, while the Arkansas River makes me miss the Poudre back home (and look forward to the Fort Collins' whitewater park project and Heritage Trail), the Colorado Trail begins to beckon us once again. Despite some tendinitis, doggie chaffing, mental challenges, and water shortages ahead, we look forward to completing the remaining 200+ miles of our Colorado Heritage Journey. Our stops ahead include the La Garita Wilderness, San Luis Peak, and Lake City—check back in another week hopefully for my fourth update from the Colorado Trail.
About the author: Jordan Williams is the Assistant Program Manager for the Poudre Heritage Alliance, and he will be hiking the 500 mile Colorado Trail from Denver to Durango from August to early September alongside his wife Kelsey and their dog, Aska. During their trip, the threesome will be making stops in South Park and Sangre de Cristo National Heritage Areas and blogging about their experiences. Additionally, they will be posting about their adventures on Instagram @thehikingheeler and @poudreheritage. Don't miss your chance to learn more about Colorado's Heritage Journey!