Backpacking along the Colorado Trail definitely makes you appreciate the value of water. Not having access to tap water, a shower, or an ice cold beer for several days really puts the idea of "wilderness" into perspective. Most of our days along the trail, we try to make camp near a water source, and at the end of the first day our goal was the South Platte River (see picture above). This location had particular meaning for me, since throughout segment 1 of the trail, we had been paralleling the South Platte canyon. Having lived in Fort Collins for over 5 years now, the Poudre Canyon has become a home away-from-home, and the confluence of these two great rivers approximately 5 miles east of Greeley marks the edge of the Cache la Poudre River National Heritage Area. Safe to say, after 13 blistering hot miles on day one, the South Platte's cold waters were exactly what we needed.
Way back on July 5, 1820, Major Stephen Long reached present day Denver where he also got to look upon the South Platte River. However, his first impressions were not as enthusiastic as my feelings during our Colorado Trail thru-hike in 2018. Long had been commissioned to ascend the Platte River and explore the headwaters of the Arkansas and Red Rivers. His expedition followed the Platte River to its South Fork in the mountains, where they discovered and named Long's Peak. While his group was not successful in finding the headwaters of the Arkansas and Red Rivers, the Long Expedition was the first scientific survey of the region and dramatically increased the country's geographical knowledge of the West. Of course, with the spring runoff long gone from the rivers of Colorado, Long thought the the region resembled a "Great American Desert" rather than a Fertile Crescent.
Settlers did eventually pour into Colorado's Front Range, and they formed towns along the area's waterways. The Union Colony settlement in 1869 (now present day Greeley) at the confluence of the South Platte and the Cache la Poudre River, and their continued perseverance in utilizing the water resources available in the area, is a prime example of how Long's initial assessment was a little short-sighted. The Cache la Poudre River National Heritage Area is meant to chronicle how the people of Northern Colorado interacted with the natural landscape and the river to have a nationally-significant impact on water law and water management systems. Which just goes to show that in terms of Stephen Long's findings, first impressions aren't always the most accurate.
Unfortunately for our "expedition" along the Colorado Trail, not every day would end with a South Platte River-esque water source. The first few days were incredibly dry, but still very eventful. On Day 1, nature was out in full-splendor as we traversed Bear Creek while running into butterflies, berries, and bobcat poop. We even had some fly-bys from a couple hummingbirds and hawks.
After replenishing our water supplies at the South Platte on the morning of Day 2, we prepared to traverse the Buffalo Creek burn area (see pic below). Despite fantastic footing along the trail and some respite at the local firehouse, Kelsey began suffering some serious blister problems. We hoped to end the 16 mile day at Tramway Creek, but unluckily for us there was no way we were going to pump water from that trickle of a stream. So we headed 4 more miles down the trail to Buffalo Creek, where we spent the night alongside another thru-hiker, a nurse from New Mexico who was attempting to complete the trail in just 30 days. Big props!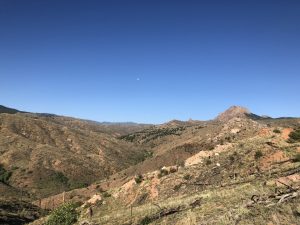 Day 3 brought cloudier weather—thank heavens! Unfortunately, we had a 2,000+ ft climb up to 10,600 feet in the Lost Creek Wilderness to look forward to. Despite a lack of views from the top, we were rewarded with a couple of Gatorades from two "trail angels" at our campsite that evening. (See picture below for the valley we camped in.) Our troubles continued though when we discovered that our dog Aska was experiencing chaffage from her pack, and our water filter clogged. Back up iodine pills to the rescue! We were really starting to miss that great tasting, Fort Collins tap water at this point…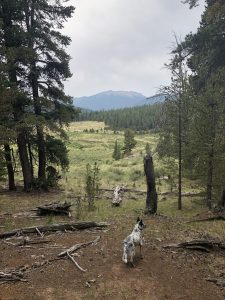 On Day 4, I woke up with a headache and some queasiness. Maybe a little bit of altitude sickness? We powered through the first 6 miles of the day though to exit the Lost Creek Wilderness, but we had some company from baby birds and cows along the way (see pic below). That night, we camped for the first time totally by ourselves (except for a few cows that decided to sleep at Johnson's Gulch as well), where we enjoyed the thunder and lightning show from the comfort of our tent.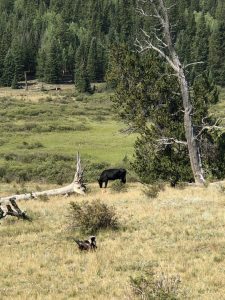 Day 5 brought us back to civilization as we headed toward to Kenosha pass to meet up with our friends to help us resupply, which included a new water filter. Yay! We also connected with the amazing media crew from Mount Bailey productions to film a segment and do a podcast for South Park National Heritage Area. Look for it on Facebook by the end of the month! Aska was especially interested in the interpretative signage chronicling the railroading and farming heritage of the area. (See pic below.) That night brought the end of our dry spell, as the rain and wind ravaged our campsite. How are we going to do this whole thing again?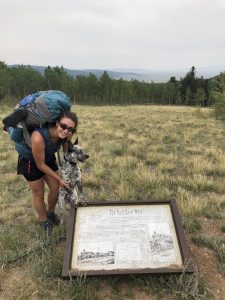 Day 6 found us climbing up and over Georgia Pass, while we dodged mountain bikers on this popular segment of the trail. (See 13,000+ Mt. Guyot in the pic below.) We also ran into several other thru-hikers from all over North America, including Toronto, Boston, and Philadelphia. The rocky road on the way down from the pass made several foot baths in the ice cold streams a necessity that evening. Again, the importance of water, this time for feet care.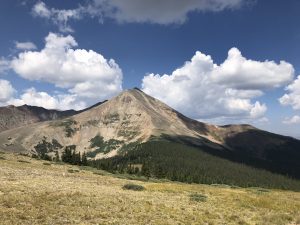 Finally, on Day 7 we "sprinted" the last 13 miles to Breckenridge while fighting random rain storms, unfortunate uphills, and annoying foot pains. We were greeted with ice coffees by Kelsey's parents, and proceeded to enjoy showering and drinking from the tap again. As I write this post listening to Tenmile Creek rushing past, I am beginning to get ancy for the trail however. I can only hope to get lucky with future water sources while avoiding those thunderstorms on the high peaks of the continental divide. Either way, I still have a lot to learn about this state's water heritage.
Look for my next post in a week from Twin Lakes!
Sources for this article:
About the author: Jordan Williams is the Assistant Program Manager for the Poudre Heritage Alliance, and he will be hiking the 500 mile Colorado Trail from Denver to Durango from August to early September alongside his wife Kelsey and their dog, Aska. During their trip, the threesome will be making stops in South Park and Sangre de Cristo National Heritage Areas and blogging about their experiences. Additionally, they will be posting about their adventures on Instagram @thehikingheeler and @poudreheritage. Don't miss your chance to learn more about Colorado's Heritage Journey!